Jordan Map and Satellite Image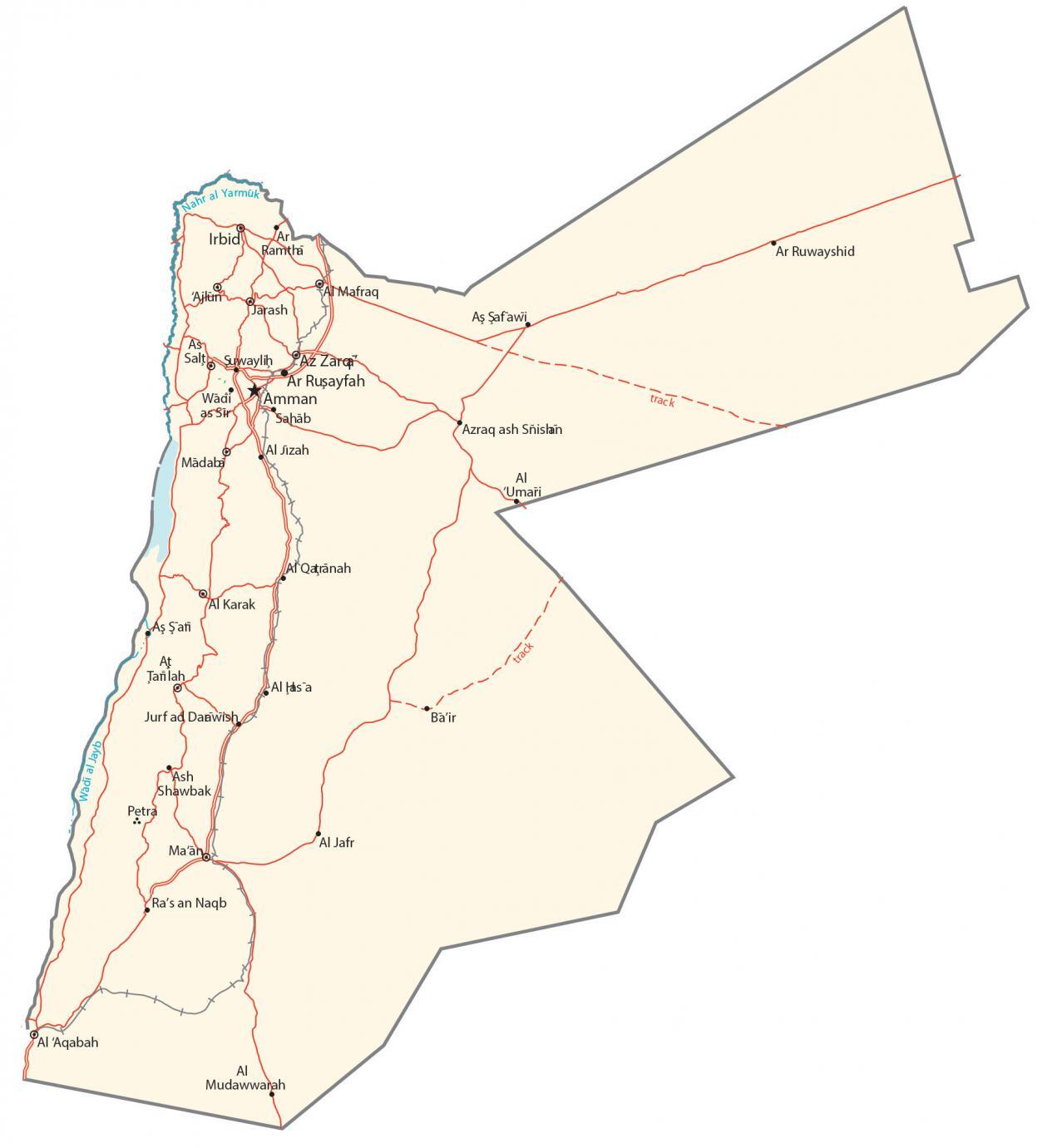 Download
This map of Jordan displays major cities, towns, roads, lakes, and rivers. Satellite imagery and a terrain map show the Syrian Desert, Dead Sea, and Jordanian Highlands.
You are free to use our Jordan map for educational and commercial uses. Attribution is required. How to attribute?
About the map
Jordan is located in the Middle East at the crossroads of Asia, Africa, and Europe. The Jordan River and the Dead Sea form a border between Israel and the West Bank (State of Palestine) to the west.
Also, Jordan borders both Saudi Arabia and Iraq to the east as well as Syria to the north. Its southern 26-kilometer (16 mi) coastline gives access to the Gulf of Aqaba and the Red Sea. Amman is the capital and largest city of Jordan.
The country has a diverse geography, with several different landscapes. The east of the country is mostly desert, while the west is more mountainous. Central Jordan is home to the Jordan Rift Valley, which is a large valley that runs from north to south.

Jordan in Google Maps
IMAGERY
Jordan Satellite Map
Altogether, Jordan occupies an area of 89,342 square kilometers (34,495 sq mi). This makes it almost identical in size to Serbia or Azerbaijan. The Syrian Desert covers 85% of the landmass in Jordan, where the population is sparse.
Whereas the northwestern region contains most major cities because of its highest rainfall and fertile soil. While the Jordan River is the longest river, its largest water bodies include the Dead Sea and Lake Tiberias (Sea of Galilee)
PHYSICAL
Jordan Physical Map
One of the most prominent features in Jordan is the Jordan Rift Valley, which spans a north-south direction. This geological divide includes the Jordan River Valley, the Dead Sea, and the Jordanian Highlands.
At 1,854 meters (6082.7 ft), the highest point in Jordan is the mountain peak Jabal Umm ad Dami. Conversely, the lowest point is in the Dead Sea at 431 meters (1414 ft) below sea level. Not only in Jordan but the surface of the Dead Sea is the lowest point on the planet.