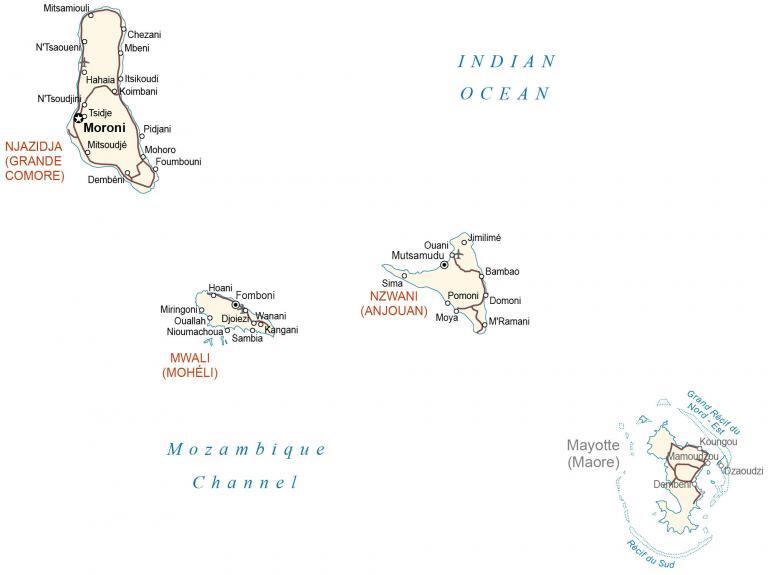 Download
This Comoros map displays populated places, islands, airports, and roads. An elevation map and satellite imagery highlight the volcanic origin of the Comoros archipelago.
You are free to use our Comoros map for educational and commercial uses. Attribution is required. How to attribute?
About the map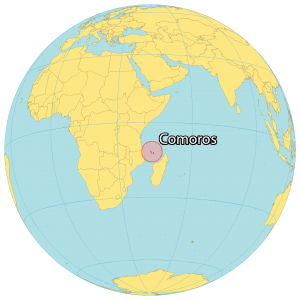 Comoros is an island country off the southeast coast of Africa in the Indian Ocean. It's sandwiched between Madagascar to the east as well as Mozambique and Tanzania to the west. Comoros consists of various islets and three main islands – Ngazidja (Grande Comore), Ndzuani (Anjouan), and Mwali (Mohéli).
Additionally, it's the fourth smallest African nation at only 1,861 square kilometers (719 sq mi) in size. With an estimated population of 850,000, the majority of people live in the capital city of Moroni. Otherwise, its other major cities and towns include Moutsamoudou, Fomboni, and Domoni.

Comoros in Google Maps
IMAGERY
Comoros Satellite Map
The volcanic archipelago of Comoros is situated off Africa's east coast. It's part of the Indian Ocean and within the Mozambique Channel. First, the largest island is the Grande Comore (Ngazidja), which is surrounded by beaches along the outer edge. Lava once flowed from this active Mount Karthala volcano but is still active today. Next, Anjouanis (Ndzuwani) is the second-largest island and is the remnants of an old shield volcano. Finally, Mwali (Mohéli) is the smallest of the three islands and contains Mohéli Marine Park, the first protected area in Comoros.
HILLSHADE
Comoros Elevation Map
As an archipelago in the Indian Ocean, the terrain in Comoros is mountainous with steep hills. At 2,361 m (7,746 ft), its highest point is Mount Karthala. This active shield volcano is located on Ngazidja and is part of Karthala National Park. In fact, it's still one of the most active volcanoes in the world today. The climate is mostly tropical and mild with two distinct seasons determined by their amount of raininess.
World Atlas
Visit our world atlas and explore all the continents and countries of the world. Get a blueprint of the world with political, satellite, and topographic maps.