Map of Kenya – Cities and Parks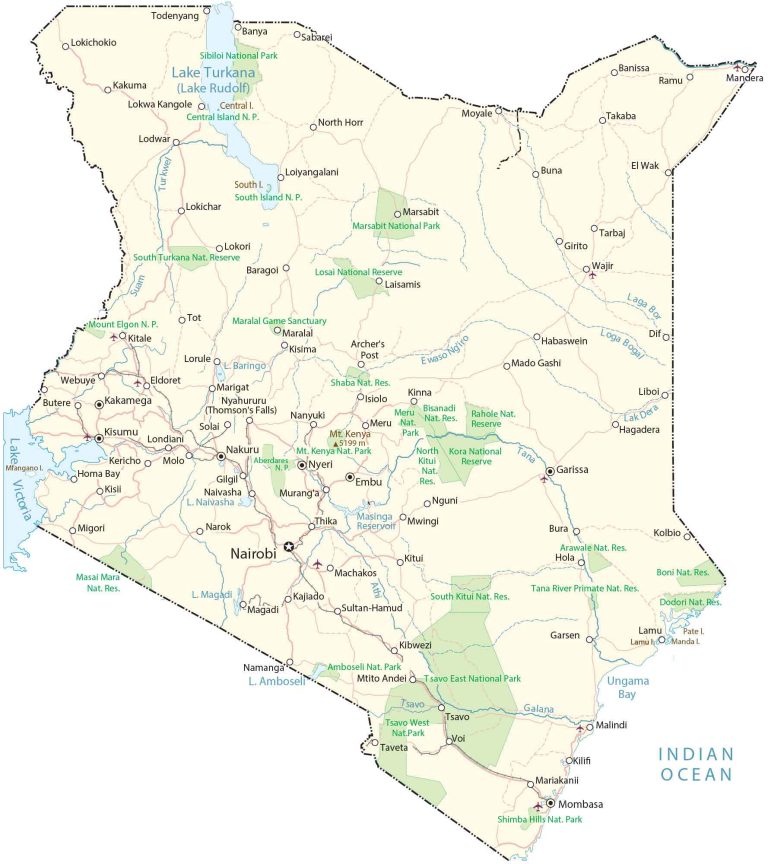 Download
This map of Kenya contains cities, towns, highways, lakes, and rivers. Satellite imagery and a topographic map to view its savannas, lakes, Great Rift Valley, and mountain highlands.
You are free to use our Kenya map for educational and commercial uses. Attribution is required. How to attribute?
About the map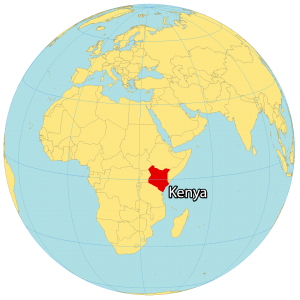 Kenya is an African country located on the eastern coastline of the Indian Ocean. It lies on the equator between 5°N and 5°S latitudes.
Kenya borders Tanzania to the south, Uganda to the west, South Sudan to the northwest, Ethiopia to the north, and Somalia to the northeast.
Nairobi is the capital and largest city of Kenya. Other major cities are Mombasa, Nakuru, and Eldoret. Overall, the country is known for its picturesque landscapes, savannas, wildebeest migration, Lakelands, and Great Rift Valley.

Kenya in Google Maps
IMAGERY
Kenya Satellite Map
Kenya occupies an area of 580,367 square kilometers (224,081 sq mi), which makes it almost identical in size to Botswana. Its most recognized lake is Lake Victoria, which forms a border with both Uganda and Tanzania. Several geographic features distinguish key regions in Kenya.
First, the Great Rift Valley cuts through Kenya in a north-south direction, forming the Cherangani Hills and a chain of active volcanoes. Secondly, the Serengeti Plains in the southwest consists of treeless grassland, which also occupies the north of Tanzania. Finally, the Chalbi Desert is a small desert located in the north near Ethiopia.
HILLSHADE
Kenya Elevation Map
The physical geography of Kenya ranges from rugged mountains to savanna and Lakelands. Its most prominent mountain chain is the Aberdare Range. This 160-kilometer (100 mi) long mountain range is north of Kenya's capital Nairobi.
Otherwise, the Taita Hills, located in the southeast near Tanzania, contains three separate groups of mountains.  While Mount Kenya is the highest peak at 5,199 m (17,057 ft), Kenya also offers views of Tanzania's Mt. Kilimanjaro.