Dominica Map and Satellite Imagery
This map of Dominica displays populated places, highways, and airports. It also features an elevation and satellite map to see the "Nature Island of the Caribbean" for yourself.
You are free to use our Dominica map for educational and commercial uses. Attribution is required. How to attribute?
About the map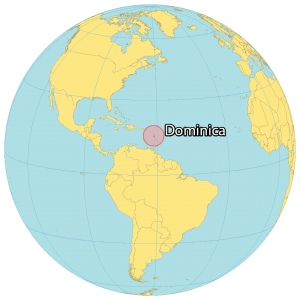 Dominica is a small island country located in the Caribbean near Guadeloupe and Montserrat to the north as well as Martinique and Saint Lucia to the south. It has an area of just 750 square kilometers, which is similar in size to Singapore.
Its coastline of just 148 km (92 mi) would take a bit over an hour to drive around the entire island. Roseau is the capital and largest city of Dominica, with a population of approximately 15,000 people. The total population of Dominica is just 72,000 people with English as its official language.

Dominica in Google Maps
IMAGERY
Dominica Satellite Map
Dominica is known for its dense tropical rainforests as it's estimated that they cover about two-thirds of the country. In fact, its nickname is the "Nature Island of the Caribbean" because of its lush flora and fauna. It's also known for its extensive river system.
Over 360 rivers flow through the island such as the Pagua, the Layou, and the Indian River. Because Dominica is at the center of the Lesser Antilles, it has as many as nine volcanoes.
HILLSHADE
Dominica Elevation Map
The terrain in Dominica is extremely mountainous because it's part of the rugged Lesser Antilles volcanic chain. Its highest point is Morne Diablotins about 15 miles north of Roseau. At 1,447 m (4,747 ft), it's also the ninth-highest peak out of all mountains in the Caribbean.
Also, Morne Trois Pitons is the second-highest peak in the country. Not only is it known for being a prominent peak in Dominica, but it's also a UNESCO World Heritage Site and home to one of the largest boiling lakes in the world.