Map of Jamaica – Cities and Roads

Download
This map of Jamaica contains cities, towns, highways, and islands. From its mountains to its coastal plains, satellite imagery and a physical map show the topography.
About the map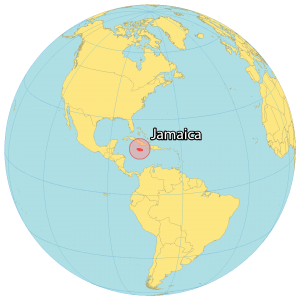 Jamaica is an island located in the Caribbean Sea. It's also part of the Greater Antilles, situated south of Cuba and west of Haiti. In terms of size, Jamaica is the third-largest island in the Caribbean, after Cuba and Hispaniola.
The capital city of Kingston is located on the southeast coast, while Montego Bay is a major tourist destination on the northwest coast. Other notable towns and cities include Port Antonio, Ocho Rios, Negril, and Falmouth.
The island has a diverse geography, with a variety of landforms including mountains, valleys, plains, rivers, and coastlines. The island's coastline is dotted with several bays and coves, as well as several natural harbors. The country of Jamaica is recognized for reggae, sprinters, sandy beaches, and jerk food.

Jamaica in Google Maps
You are free to use our Jamaica map for educational and commercial uses. Attribution is required. How to attribute?
SATELLITE IMAGERY
Jamaica Satellite Map
Jamaica occupies an area of 10,990 square kilometers (4,240 sq mi) in area. This makes it larger than Puerto Rico but smaller than the Bahamas. Its climate is lush and tropical with hot and humid weather. According to the FAO, forests cover 31% of Jamaica.
Because of its warm, tropical climate, the country contains large swaths of rainforests. There are also several small islands off Jamaica's coast in Portland Bight, designated as a marine protected area.
PHYSICAL MAP
Jamaica Physical Map
Jamaica's terrain is mountainous, with a discontinuous coastal plain. Mountains lie within the interior of the island such as the Dry Harbour Mountains. Whereas the John Crow Mountains and the Blue Mountains extend in the eastern region. But its highest peak is Blue Mountain Peak on the east of the island. At 2,256 m (7,402 ft), it's also one of the highest peaks in all of the Caribbean.