Download
This map of Turks and Caicos displays its collection of islands in the Atlantic Ocean. It displays satellite imagery, settlements, roads, points, bays, and islands of both the Caicos Islands and Turks Islands.
Turks and Caicos map collection
About the map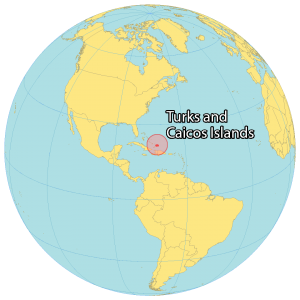 Turks and Caicos are a British Overseas Territory in the Caribbean. It consists of two main groups of islands, the Turks Islands and the Caicos Islands. Altogether, there are 8 main islands and over 22 smaller islands.
Cockburn Town is the capital and is situated on the largest island, Grand Turk Island. But Providenciales is the most populous island with over two-thirds of the population, known for its exceptional beaches.
Not only is Turks and Caicos recognized for its tourism, but it's also a hub for offshore financial centers. Turks and Caicos is located southeast of the Bahamas, northeast of Cuba, and north of Haiti and the Dominican Republic. Both main groups of islands are separated by the Turks Island Passage and surrounded by the Atlantic Ocean. The territory is part of the Lucayan Archipelago and the northern West Indies.

Turks and Caicos Islands in Google Maps
You are free to use our map of Turks and Caicos for educational and commercial uses. Attribution is required. How to attribute?
SATELLITE IMAGERY
Turks and Caicos Satellite Map
Altogether, the islands of Turks and Caicos occupy a combined land area of 430 square kilometers (170 sq mi). In comparison, it's larger than Kiribati but smaller than São Tomé and Príncipe. The islands are mostly flat with marshes, mangroves, and swamps. It's also rimmed with beaches. At 48 meters (157 ft), Flamingo Hills are the highest point on East Caicos. Additionally, the Blue Hills match the same height as Providenciales.
The only islands with permanent settlement in the Turks Islands are Grand Turk, which is the most densely populated area, as well as Salt Cay. Providenciales is the most populous island in the Caicos Islands. Also, there are settlements in North Caicos, South Caicos, Parrot Cay, East Caicos, and West Caicos. The islands are regularly sunny with a tropical savanna climate
Caribbean