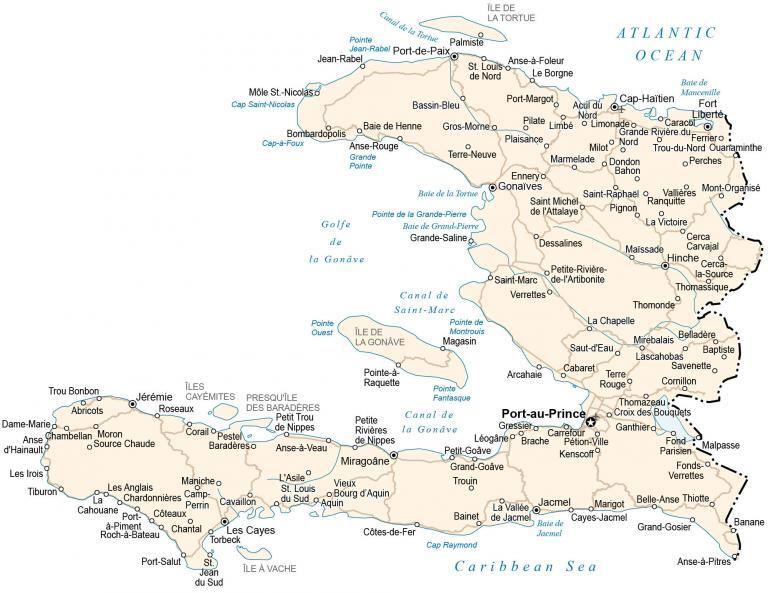 Download
This map of Haiti contains major cities, towns, highways, and satellite imagery. An elevation map displays the rugged topography of Haiti and its various mountain chains.
You are free to use our Haiti map for educational and commercial uses. Attribution is required. How to attribute?
About the map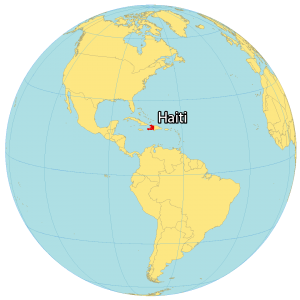 Haiti is an island located in the Caribbean within the Greater Antilles archipelago. It's part of Hispaniola Island, next to the Dominican Republic to the east. Also, it's close to Cuba to the west and is just 100 kilometers (60 mi) away. Whereas the Bahamas are to the northwest, Jamaica to the west, as well as Colombia and Venezuela are to the south.
Altogether, the country occupies an area of 27,750 square kilometers (10,714 sq mi) which is the third-largest in the Caribbean. In comparison to the Dominican Republic to the east, Haiti makes up about one-third of the landmass. The population is 11.26 million people making it the most populous in the Caribbean. Port-au-Prince is the capital and largest city with about 1 million people.

Haiti in Google Maps
IMAGERY
Haiti Satellite Map
While forests cover 4% of Haiti, over 50% of the land is set aside for crops. The major agricultural products of Haiti are bananas, rice, and maize. Soil degradation is a major environmental issue in Haiti because of centuries of deforestation and over-reliance on agriculture.
With an average temperature of 26°C, the climate is primarily tropical with other areas semi-arid and subtropical. Its summers are especially wet and warm. Haiti is close to the Caribbean Plate and is subject to a large number of earthquakes, including the catastrophic 7.0 magnitude earthquake in 2010.
HILLSHADE
Haiti Elevation Map
Haiti has the most rugged terrain with more mountains and hills than any other country in the Caribbean. It's mostly mountains mixed with small coastal plains and river valleys. The interior of Haiti consists of two plains between two mountain ranges – Massif du Nord and Noires Mountains.
Between these two mountains is Haiti's most important agricultural train, the Arbonite Plains. Its southernmost region contains the Massif de la Hotte with Haiti's second-highest mountain, Macaya Peak. But La Selle Mountain (Pic la Selle) is Haiti's highest peak at 2,680 m (8,790 ft) above sea level.