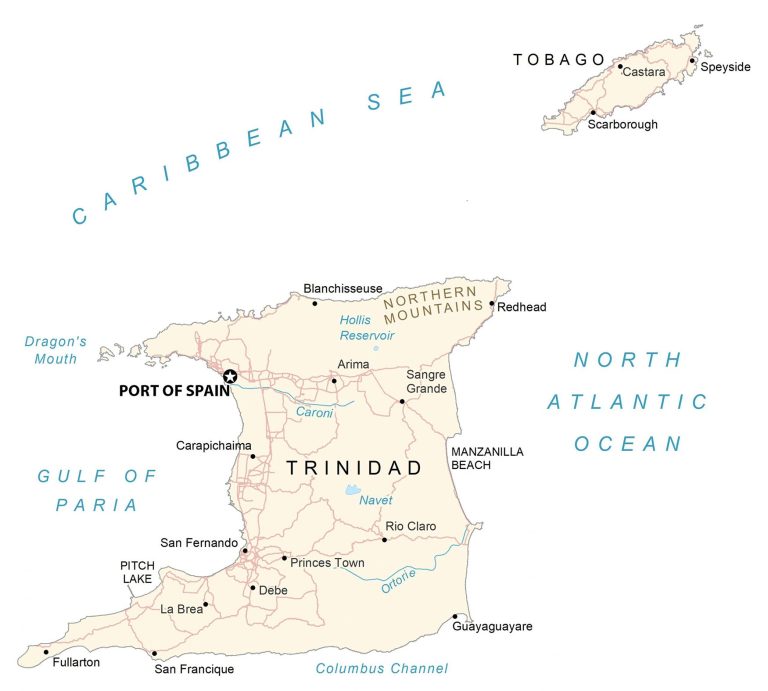 Download
This Trinidad and Tobago map collection contains a reference map, satellite imagery, and an elevation map. It includes major cities, towns, roads, highways, lakes, rivers, and mountains.
Trinidad and Tobago map collection
You are free to use our Trinidad and Tobago map for educational and commercial uses. Attribution is required. How to attribute?
About the map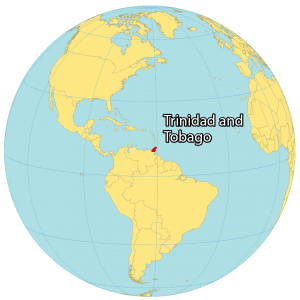 Trinidad and Tobago is the southernmost country in the Caribbean. It consists of two islands, Trinidad the larger in the south, and the smaller island of Tobago in the north.
Port of Spain is the capital, but Chaguanas is the largest city in Trinidad and Tobago. Other major cities are San Fernando, Mon Repos, and Rio Claro.
The island of Trinidad is just 11 kilometers away from Venezuela to the west. Additionally, Grenada is located to the north. The country is known for its diverse mix of African and Indian culture, Carnival festival, sandy beaches, fossil fuels, and birdwatching.

Trinidad and Tobago in Google Maps
SATELLITE IMAGERY
Trinidad and Tobago Satellite Map
Trinidad and Tobago have a diverse mix of landscape types including jungles, forest reserves, waterfalls, and swamps. Altogether, Trinidad and Tobago occupy an area of 5,131 square kilometers (1,981 sq mi). In comparison, it's smaller than Delaware but larger than Rhode Island.
The country is situated in the southernmost part of the West Indies in the Caribbean. It lies between 10° and 11°N latitude above the equator so the climate is tropical with high relative humidity.
While the Columbus Channel separates Trinidad from Venezuela to the south, the Dragon's Mouth and Gulf of Paria are located to the west. Some of the smaller islands that belong to the nation are Chacachacare, Monos, Huevos, Gaspare, Little Tobago, and Saint Giles Island.
PHYSICAL MAP
Trinidad and Tobago Elevation Map
Trinidad and Tobago is a mix of flat plains, hills, and mountains. The central and southern regions of Trinidad are mostly flat plains. Whereas the northern region contains its most elevated terrain.
Specifically, the Northern Range stretches from west to east along its north shore and contains several of its highest peaks. At 940 meters (3,080 ft) above sea level, El Cerro del Aripo it's the highest peak in the country.
Secondly, El Tucuche is a close second for the highest elevation at 936 meters (3,071 ft). Although the north contains its most rugged topography, there are also the Montserrat Hills in the center of the island and the Southern Range and Trinity Hills to the south.