This Saint Lucia map (previously called Iyonola) displays populated places, roads, and water. Satellite imagery enables you to see the Pitons, which are two mountainous volcanic spires in the southwest of the island.
You are free to use our Saint Lucia map for educational and commercial uses. Attribution is required. How to attribute?
About the map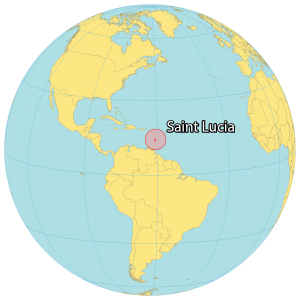 Saint Lucia is an island in the Caribbean Sea and part of the Lesser Antilles. It occupies an area of 617 square kilometers (238 sq mi). In comparison, it's smaller than Dominica but larger than Barbados. Saint Lucia is 30 kilometers (18 mi) away from St. Vincent and the Grenadines to the south.
Whereas the French island of Martinique is just 34 kilometers (21 mi) to the north. Additionally, Barbados is situated 147 kilometers (91 mi) to the east. Castries is the capital and most populous city, situated on the west of the island. But other major towns are Gros Islet, Soufrière, and Vieux Fort.

Saint Lucia in Google Maps
IMAGERY
Saint Lucia Satellite Map
Saint Lucia is one of the most rugged Caribbean islands. Like most of the Windward Islands (Dominica, Saint Vincent, and Grenada), Saint Lucia is volcanic in origin. Lush rainforests cover the country with waterfalls and a ring of beaches around the island. At 950 meters (3,120 feet) above sea level, Mount Gimie is the highest peak in Saint Lucia. But its most famous are the Pitons, which are two mountainous volcanic spires in the southwest of the island. In 2004, the Pitons earned World Heritage Site status and is now a 2,900-hectare management area. Most of the towns and villages of Saint Lucia are along its 158 kilometers of coastline.
World Atlas
Visit our world atlas and explore all the continents and countries of the world. Get a blueprint of the world with political, satellite, and topographic maps.