Guinea Map – Cities and Places

Download
This map of Guinea (Formerly French Guinea) contains cities, towns, rivers, lakes, and highways. Satellite imagery and a physical map show the topography and terrain of Guinea.
You are free to use our Guinea map for educational and commercial uses. Attribution is required. How to attribute?
About the map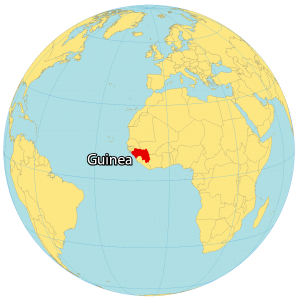 Guinea is a country located in Western Africa. It borders six other African countries. Guinea-Bissau is to the northwest, Senegal is to the north, Mali is to the northeast, Ivory Coast is to the southeast, as well as Liberia and Sierra Leone are to the south.
Its coastline stretches for 506 kilometers (314 mi) off the coast of the Atlantic Ocean. Conakry is the capital and largest city of Guinea along the west coast. Other major cities include Nzérékoré and Kankan.

Guinea in Google Maps
IMAGERY
Guinea Satellite Map
Guinea occupies an area of 245,857 square kilometers (94,926 sq mi), which makes it larger than Uganda but smaller than Gabon. A major feature is the Fouta Djallon mountain chain that runs through the interior.
This highland region is the source of the Niger, the Gambia, and Senegal Rivers. According to the FAO, forests cover 26.6% of Guinea. For example, this includes the Dahomey Gap, the Guinean forest-savanna area, and the forested jungle regions in the southeast.
PHYSICAL
Guinea Physical Map
The country of Guinea is a mostly flat coastal plain in Lower Guinea. But closer to the interior, it's a mix of rolling hills and mountainous terrain. For instance, this includes the Fouta Djallon mountains that run north to south in the middle of the country.
At 1,752 m (5,748 ft), Mount Nimba is the highest point in Guinea. Not only Guinea, but it's also the highest point of its neighboring country, Ivory Coast, as well.