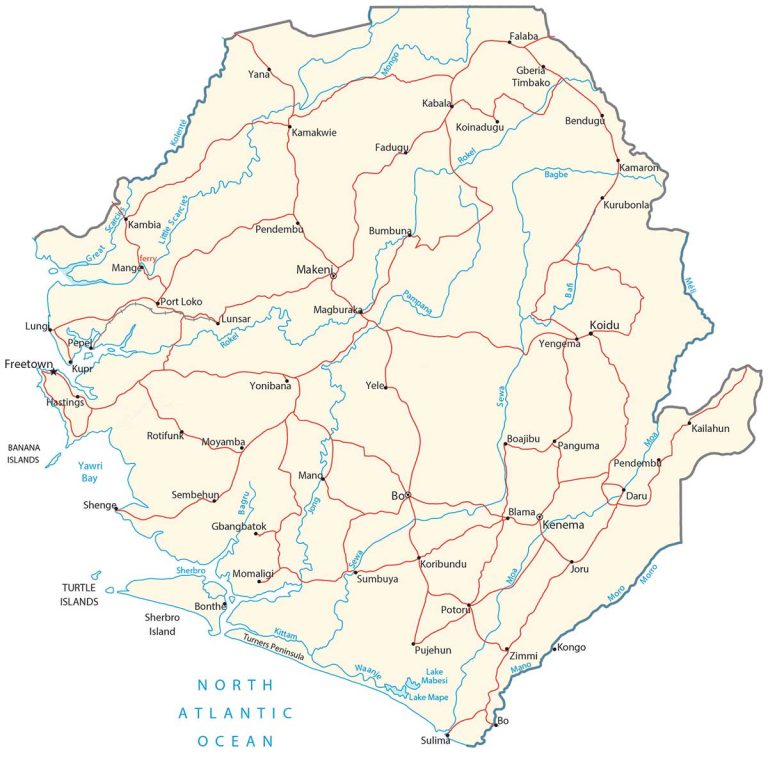 Download
This Sierra Leone map collection contains a reference map, satellite imagery, and a physical map. Each map of Sierra Leone displays cities, towns, islands, rivers, highways, roads, and airports.
You are free to use our Sierra Leone map for educational and commercial uses. Attribution is required. How to attribute?
About the map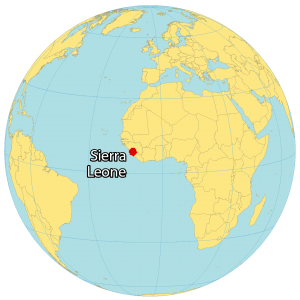 Sierra Leone is located in western Africa next to the Atlantic Ocean. It borders just 2 other African countries. First, Guinea surrounds Sierra Leone to the north and east. Secondly, Liberia is situated southwest of Sierra Leone.
Its coastline extends for 506 km along the North Atlantic Ocean with several islands like the Turtle Islands, Banana Islands, and Sherbro Island. Freetown is the capital and largest city of Sierra Leone. Other major cities in Sierra Leone are Bo, Kenema, and Koidu.

Sierra Leone in Google Maps
IMAGERY
Sierra Leone Satellite Map
From savannah to rainforests, Sierra Leone has a diverse mix of landscapes. One of the major characteristics of Sierra Leone is its rainfall. Overall, it's one of the wettest countries in Western Africa, specifically along the coastal regions. But on the other hand, Sierra Leone also receives sand and dust storms from the blowing Sahara wind. The country occupies a total area of 71,740 square kilometers (27,699 sq mi). In comparison, it's larger than Togo but smaller than Benin. It lies between latitudes 7° and 10°N so the climate is tropical with a distinct rainy and dry season.
HILLSHADE
Sierra Leone Elevation Map
There are four distinct geographical regions in Sierra Leone. First, the east of Sierra Leone has high mountains and plateaus. This region contains its highest peak, Mount Bintumani, which stands at 1,948 meters (6,391 ft). Secondly, the interior of Sierra Leone is mostly lowlands with forests and cultivated farmland. Whereas the north is part of the Guinean forest-savanna mosaic, which is a World Wildlife Fund ecoregion. Finally, the Atlantic Ocean coastal area contains everything from mangroves, swampland to relaxed sandy beaches and the Sierra Leone Harbour.
World Atlas
Visit our world atlas and explore all the continents and countries of the world. Get a blueprint of the world with political, satellite, and topographic maps.