Ghana Map – Cities and Roads
This Ghana map features major cities, towns, lakes, rivers, railroads, and highways in Ghana. It includes satellite imagery and an elevation map to view the topography of Ghana.
You are free to use our Ghana map for educational and commercial uses. Attribution is required. How to attribute?
About the map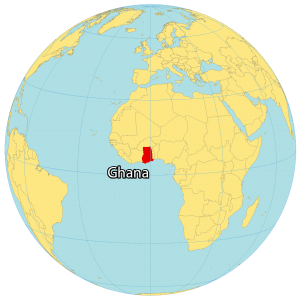 Ghana is located in Western Africa, along the Gulf of Guinea. It borders 3 African countries including Ivory Coast to the west, Burkina Faso to the north, and Togo to the east.
Ghana is considered one of the more stable African countries. Also, it is the largest producer of gold in Africa, even larger than South Africa.
Accra is the capital and largest city with over 85% of people living in the Greater Accra Region. Other major cities are Kumasi, Tamale, and Sekondi-Takoradi.

Ghana in Google Maps
SATELLITE IMAGERY
Ghana Satellite Map
Ghana occupies an area of 238,535 square kilometers (92,099 sq mi). It spans a diverse range of landscapes from coastal savannas to tropical rainforests and sandy beaches. Ghana is also home to the world's largest artificial reservoir.
Lake Volta spans an area of 8,482 square kilometers and is central to Ghana's second-largest protected area – Digya National Park. Both the Volta River and Black Volta are the longest rivers in Ghana.
PHYSICAL MAP
Ghana Physical Map
The country of Ghana is mostly low plains with several mountains in the southeastern area. Its most prominent mountain range is Agumatsa. It contains Ghana's highest points, Mount Aduadu, and the nearby Mount Afadja (Afadjato). At 885 meters (2,904 ft), Mount Afadjato is the tallest mountain in Ghana. This mountain peak lies near Lake Volta along its border with Togo.