Mali Map – Cities and Roads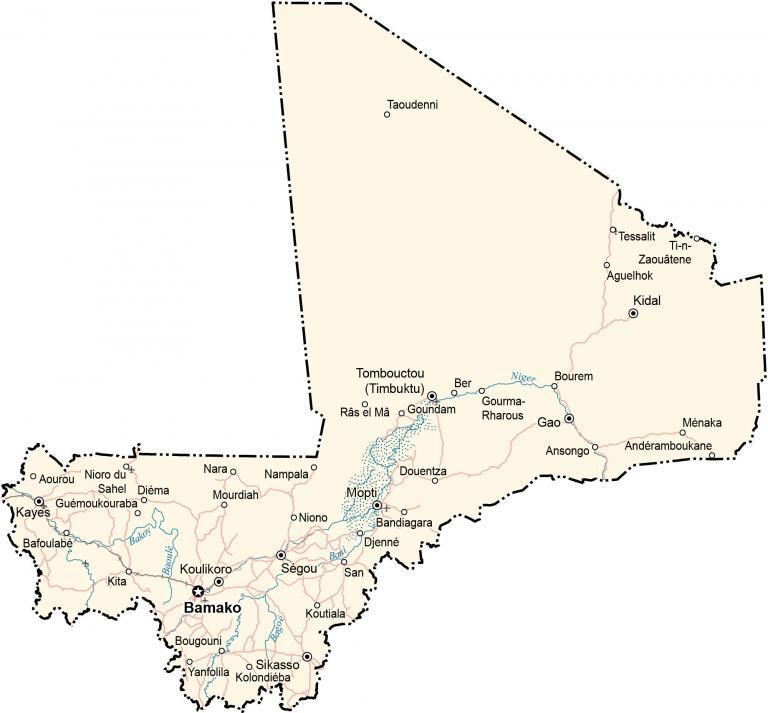 Download
This map of Mali shows cities, towns, lakes, and rivers. Satellite imagery and an elevation map display the lifeblood of Niger, the Niger River, as well as its general topography.
You are free to use our Mali map for educational and commercial uses. Attribution is required. How to attribute?
About the map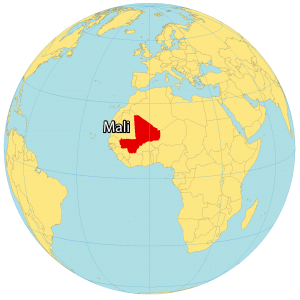 Mali is a landlocked country located in Western Africa. It borders 7 other countries including Algeria, Mauritania, Niger, Burkina Faso, Ivory Coast, Guinea, and Senegal.
Overall, the population of Mali is 19.1 million with Bamako as the capital and largest city in the country. Gold, agriculture, and salt are the primary exported resources.
Bamako is Mali's capital and largest city, located in the southwestern region of Mali. Other major cities are Sikasso, Mopti, and Koutiala.

Mali in Google Maps
SATELLITE IMAGERY
Mali Satellite Map
Mali has the 8th highest landmass in Africa at 1,240,192 square kilometers (478,841 sq mi). The Sahara Desert dominates the central and northern regions of Mali, which is about 65% of the country.
While forests cover about 10% of the country, just 5% is set aside for agriculture production. Overall, its two most prominent rivers are the Niger and Senegal Rivers. The Niger River is described as the "lifeblood" of Mali because it creates a large and fertile inland delta before emptying into the Gulf of Guinea.
PHYSICAL MAP
Mali Elevation Map
Mali is mostly flat in the south with several plateaus and rolling plains to the north. The northeast is mostly characterized as rugged hills with elevations over 1,000 meters (3,280 ft) in height.
Whereas the southern region of Mali is primarily savanna with major rivers like the Niger River cutting through creating swaths of fertile inland area. At 1,155 m (3,789 ft) in height, Mount Hombori (Hombori Tondo) is Mali's highest peak.