Togo Map – Cities and Roads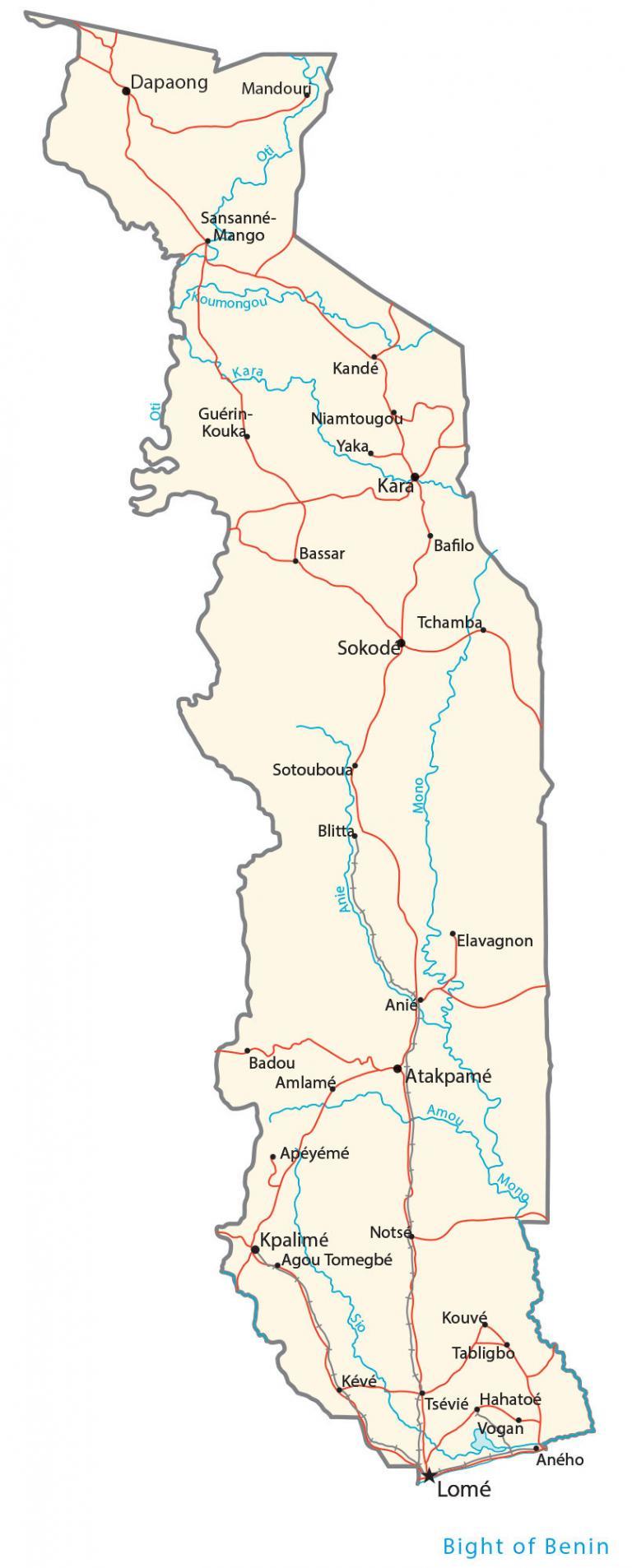 Download
Togo is a small nation in West Africa. This Togo map collection features a reference map, satellite imagery, and an elevation map. Each map contains Togo's major cities, towns, lakes, rivers, highways, roads, and regional divisions.
You are free to use our Togo map for educational and commercial uses. Attribution is required. How to attribute?
About the map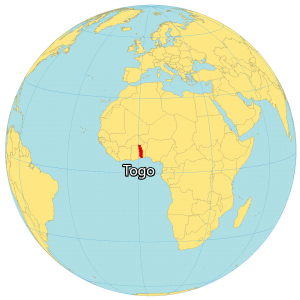 Togo is a country in Western Africa, along the Gulf of Guinea. It borders just 3 African countries including Burkina Faso to the north, Benin to the east, and Ghana to the west.
Togo is known for its beaches, lagoons, and hilltop villages. It's narrow from east-west (only 160 km or 99 mi) wide but it stretches 579 km (360 mi) to the north. Lomé is the capital and largest city of Togo. Other major cities are Sokodé, Kara, and Kpalimé.

Togo in Google Maps
SATELLITE IMAGERY
Togo Satellite Map
Togo occupies an area of 56,785 square kilometers (21,925 sq mi), which makes it one of the smallest countries in Africa. In comparison, it's smaller than Benin but larger than Guinea-Bissau.
Togo lies mostly between 6° and 11°N latitudes so its climate is mostly tropical. Its coast is 56 km (35 miles) long next to the Gulf of Guinea. Togo is a mix of different types of landscapes such as lagoons, sandy beaches, and savannahs. Its longest river, the Mono River, flows north-south for about 400 km (250 miles).
PHYSICAL MAP
Togo Physical Map
Togo is a mix of savanna and gently rolling hills in the north. Then, it transitions to hills in the central region to a southern plateau. Finally, the coasts are recognized for their lagoons and marshes.
Its longest mountain chain is the Togo Mountains, which straddle the border between Togo and Ghana. At 986 meters (3,235 ft), Mount Agou is the highest point in the west of Togo.
POLITICAL MAP
Togo Regional Map
Regions are the first-level administrative units in Togo. Currently, there are 5 regions in Togo. Its 5 regions are Savanes, Kara, Centrale, Plateaux, and Maritimes. The capitals of the 5 regions are Dapaong, Kara, Sokodé, Atakpamé, and Lomé, respectively.