Ivory Coast Map – Cities and Roads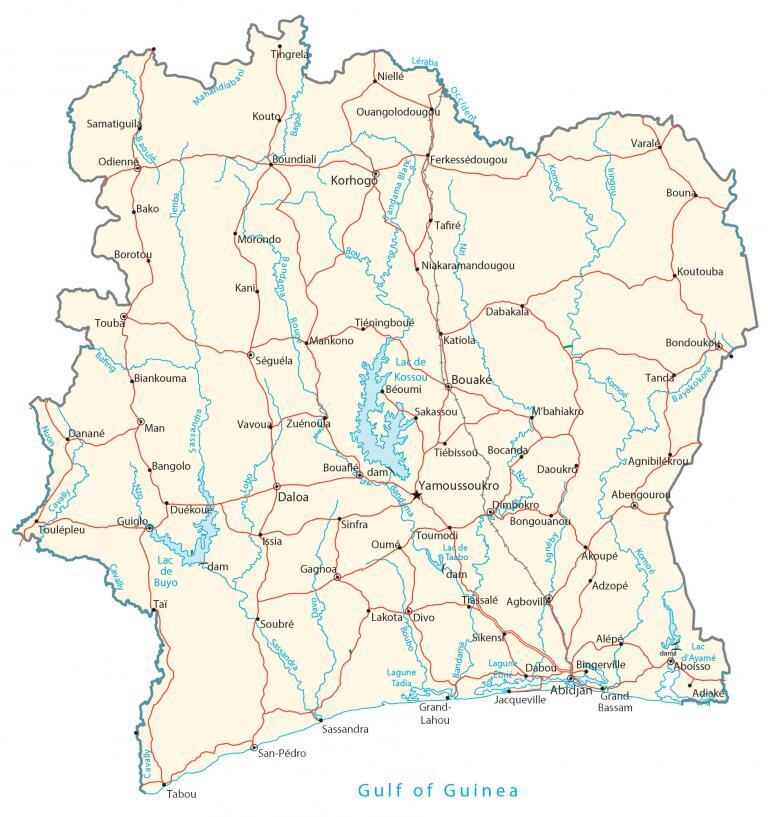 Download
This map of the Ivory Coast (Côte d'Ivoire) features cities, towns, highways, rivers, and lakes. It includes both a physical map and satellite imagery, which includes Mount Nimba.
Ivory Coast map collection
You are free to use our Ivory Coast map for educational and commercial uses. Attribution is required. How to attribute?
About the map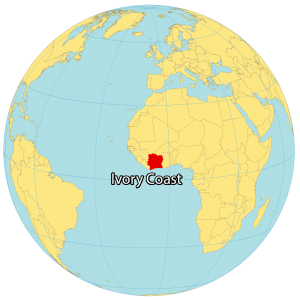 Ivory Coast is located in western Africa, along the Gulf of Guinea. It borders 5 other African countries. This includes Liberia and Guinea to the west, Mali and Burkina Faso to the north, as well as Ghana to the east.
Although Ivory Coast is unstable because of its years of civil war, Ivory Coast earns a relatively higher level of income. Its official language is French. But there are over 75 different spoken languages in the country. Yamoussoukro is the capital city but Abidjan is the largest city.

Ivory Coast in Google Maps
IMAGERY
Ivory Coast Satellite Map
Ivory Coast is situated just above the equator between 4° and 11°N latitudes. Because the terrain is mostly flat, agriculture is the foundation of their economy. Cropland and pastures cover about 65% of the Ivory Coast.
Although deforestation is an environmental issue, forests are the next main land use. According to the FAO, forests cover 33% of the Ivory Coast. The climate is mostly tropical savanna climate with a mix of wet and dry conditions. While Lake Kossou is its largest lake, the Bandama River is the longest and commercially most important.
PHYSICAL
Ivory Coast Physical Map
The terrain on the Ivory Coast is mostly flat, with several mountain peaks in the northwest. Specifically, the Guinea Highlands is a densely forested mountainous plateau to the west. This mountain chain contains Mount Nimba (Mount Richard-Molard) along the Ivory Coast and Guinea border. At 1,752 m (5,748 ft) high, this is the highest peak in the Ivory Coast.