GeoMedia by Hexagon Geospatial (Review)
Hexagon GeoMedia Review
With a rich 50-year history, Intergraph (now Hexagon Geospatial) has perfected GeoMedia for all things GIS. However, it's been a bit quiet over the years for GeoMedia…
…And most people have forgotten what GeoMedia can do in the world of GIS. Which is a problem. These 9 powerful features will help you deliver actionable intelligence in the spatial world we live in.
Pros/Cons of Hexagon Geospatial
Here are some of the advantages and disadvantages of using Hexagon Geospatial compared to other GIS software applications.
Geomedia Ratings
Ranked #4 from 30 GIS Software
1. Master the raster tools
No other software company other than Hexagon Geospatial has a powerful one-two punch combo in both GIS and remote sensing.
While GeoMedia provides solutions for GIS users' needs, ERDAS Imagine is one of the most powerful remote sensing suites that exist today.
What does this mean for you?
This means that you get comfort in knowing GeoMedia has powerful and robust raster analysis to get the job done.
Neatly organized under the grid tab, there is a wealth of tools like image classification, interpolation, and statistical tools whispering to you. Please use me…
Check out this gold mine of surface tools in this drop-down:
There is a tool to fill gaps, strangely uncommon in most GIS software suites. You can run zonal stats, perform raster math, and run cost-distance.
Here we generate isolines. Notice how GeoMedia breaks contours as major and minor – a neat feature. However, the labels generated looked a bit messy and box-like.
With the 3D extension, you get a global perspective. When you push down on the center mouse button, you can tilt the globe and rotate it. Here we import the Digital Elevation Model (DEM) in a 3D view and bin the data in a histogram.
Speaking of 3D, let's examine some of the 3D effects available in GeoMedia 3D.
2. The real world is 3D, not flat
GeoMedia offers a unique 3D experience for viewing and analyzing data. All things considered, there are some impressive characteristics about it.
Coupled with 3D point cloud (such as LiDAR data) integration and mobile capabilities with MapWorks, you can carve out features seamlessly. For example, here we extrude these counties based on population.
This type of map gives that extra bit of oomph to really impact readers as California appears to have the most crowded counties.
The quickness of GeoMedia 3D displaying three-dimensional models will startle you. As it renders your 3D data, it is accurate, powerful, and beautiful.
The 3D views have different levels even including the solar system. Here is the planetary view:
As you switch to the state view and change it to night mode, you can even do a bit of star-gazing at the seat of your computer workstation:
GeoMedia's street view gives options for rain, haze, and snow. You are even capable of changing the season. Check out the snow falling.
To sum up, I had a lot of fun with this.
The default base map imagery in GeoMedia is poor at the time of writing this article.
To say the least, the Pictometry license would've been useful. But still amazing stuff.
3. Craft beautiful thematic maps
From a mapping standpoint, cartographers have lots of choices in symbology control and types of thematic maps (choropleth, bar and pie charts, etc).
With that said, I wouldn't say that it comes loaded with every symbol you'll ever need, but it has a lot to work with. We whipped together this pie chart map as an example using the public domain Natural Earth data.
The Layout Window commands allow you to design a map layout with intelligent layout frames. In the layout window, you place your map elements such as maps, legends, north arrows, and scale bars originating from the GeoWorkspace.
This is also where you can place title blocks, additional text, and company logos. When you're done, you can plot the layout view or even do some batch plotting to create multiple PDFs in one go.
4. Control labels with smart labeling
Labeling is something cartographers spend too much time doing. This is simply because they never tend to end up in the right position or size proportionally. To solve this problem, GeoMedia developed a tool to label elements on a map with ease and in an intuitive way.
All you have to do is set rules for how you want the labels to be placed on your map.
When you have a river in your map layout, the smart labeling will place labels along that line. When too many features are close together, the smart labeling system will add leader or call-out lines to your map: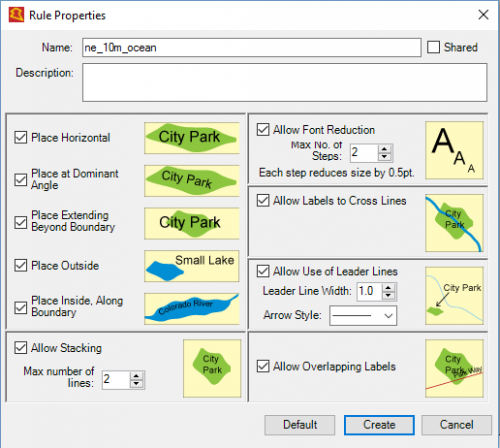 In the map below, here is the Labeling Manager default result. You can see how there is very little (actually none) overlap and how call-out lines are generated appropriately.
This feature is definitely a winner in my books. Further to that, it's a big time-saver.
5. It's all about the queries in GeoMedia
Do you ever notice that you can never get the first buffer, right?
You don't have to create a whole new feature in GeoMedia, the buffer is just a representation of the feature that happens in the GeoWorkspace document. A buffer becomes a query in your legend that you can modify. You can actually change the buffer distance you just did and merge other buffers on the fly. This gives you more flexibility.
…And most analysis tools function this way in GeoMedia. You don't create a bunch of intermediate features to dissolve or intersect. Analysis tools can even be tied to the attributes of the features. This means that those features will change dynamically as you change the attributes or move/edit features
There is no shortage of tools. For example, here is a hot spot analysis generated in a read/write MDB:
When you query the United States national parks, you put them in a GeoWorkspace. After taking the spatial difference, you can subtract out the parks from the country layer. Here's the land in "total area" not occupied by parks in the United States:
Queries and analysis are intuitive and fast in GeoMedia. They are really a different approach to traditional GIS and are worth a try.
6. Streamline everything with the Spatial Model Editor
The Spatial Model Editor is where you string together sets of tools to automate your workflow.
Let's say you always receive federal forest fire data for the entire United States every Monday. You have to use the Clip Tool to your state, add some attributes to it, and publish it with metadata.
Then, my suggestion for you sir is to you to use the Spatial Model Editor. When you have a repetitive process for maintaining data quality, there is no better reason why you shouldn't be using it:
The best thing is that it's versatile, easy to use, and is what you can pick up and learn effortlessly. On top of that, the Spatial Model Editor is very fast in some of the processing
Sit back and relax.
When you run processes all together as models, you can automate your work. And who doesn't enjoy doing that?
7. Smart snapping is an editing lifesaver.
Cut to the chase.
GeoMedia's smart snap is a lifesaver. Now, what does it do?
When you digitize features, smart snapping lets you visualize connecting your vertices live during edits. To ensure data quality, the editors can snap by intersection, element, tangent, midpoint, vertex, origin, endpoint, and on the element.
After you create a feature, you can click it and edit vertices appropriately. You can also choose to add or remove vertices.
This type of editing control means that you can validate geometry for completeness and quality before it's accepted. Because data integrity is important to all organizations, smart data capture, and validation tools are clear winners in GeoMedia.
Put your data in a read/write warehouse in GeoMedia. Edit your data with the control you need to create authoritative data sets.
8. QC and create authoritative data sets
Conflation rules in GeoMedia give you the means to selectively combine data from multiple representations.
If you have two road data sets from TIGER AND a local road authority, conflating data means that you can combine both of them into one increasing the overall quality.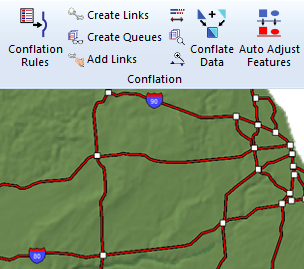 The cadastral data management tools are exceptional in GeoMedia Professional. It has all the necessary COGO tools to ensure completeness and robustness.
GeoMedia also offers enterprise asset management systems to accurately inventory all known assets which include location and condition. This system can incorporate anything from the conditions of roads, sewers, hydrants, buildings, and power lines.
9. Smart M.Apps
Smart M.Apps is one of the exciting latest happenings for Hexagon Geospatial today.
Put simply, it's an approach to design, build, and deploy YOUR own specific and targeted web application. And the name of these applications is Hexagon Smart M.Apps:
Hexagon Smart M.Apps is making the power of location work for a specific purpose. For example, a transmission line company may want to know what lines are being encroached by vegetation due to an increasing count of blackouts.
Where should the trees be cut? From ground to air, this information can go anywhere distributed as a cloud-based web service. This is extremely useful for any industry to have.
The possibilities are endless. There are thousands of applications for how this system can be implemented.
Hexagon Smart M.Apps give a decisive advantage for companies because they pinpoint real business problems. They deliver YOUR geospatial content from imagery, features, point clouds, and documents providing you with real-time answers
M.App consists of M.App Foundation (core web service), M.App Studio (simple app creation), and M.App Exchange (online applications store).
Opportunities for Enhancement
Geomedia is a great piece of software. However, some areas can be fine-tuned:
GeoMedia has slightly ugly interoperability. Although GeoMedia does support FGDB formats, it didn't consume my large 1.7 GB one. Now, it did accept my other smaller FGDB. But when your main database is an Access database format with a 2GB limit, you might be asking for trouble.
The lack of a drag-and-drop hurts users in the long run. I know time is of the essence for many analysts and when they quickly want to take a peek at some data – drag and drop is a simple way to do that. They don't have to spend time connecting to folders.
When people say GeoMedia documentation doesn't exist or isn't good, we think the opposite. It's fantastic. However, it can be a bit hard to find. While there is no user community to speak of, GeoMedia has 24/7 support tickets and helped answer all of my questions. They also have all sorts of free GeoMedia training with tutorial data.
Although there are some opportunities to improve this software, it's still a solid GIS software package.
License Levels
Here are the license levels for Hexagon GeoMedia.
GEOMEDIA VIEWER is a free application that allows for map display, simple analysis, and output of GeoMedia GeoWorkspace data. It is intended as a distribution mechanism for data created using GeoMedia products.
GEOMEDIA ESSENTIALS is the base package for querying, mapping, and performing basic spatial analysis of vector geospatial data.
GEOMEDIA ADVANTAGE builds on Essentials with the terrain and raster functionality. This license integrates with LiDAR and enables land cover classification and hydrological tools. Editing validation using topology adds to data completeness.
GEOMEDIA PROFESSIONAL includes added capability to collect features, linear referencing management, quality assurance, and validation tools as well as database schema mapping and management.
Conclusion
Companies (transportation, utilities, communications, and emergency management), government, and military groups are embracing GeoMedia because of its solution-driven approach and its uncanny ability to extract actionable information.
What are the advantages and disadvantages of working with GeoMedia: data maintenance, multiple layouts, fast querying and analysis, web-based and all-purpose mapping, high government use, surfaces, and terrain models?
The interface is incredibly smart with organized tools. It really is the first GIS software suite to get the ribbons bar correct.
Have you ever tried out GeoMedia by Hexagon Geospatial before? How did you like it? Please let us know with a comment below.