Map of Nauru (Formerly Pleasant Island)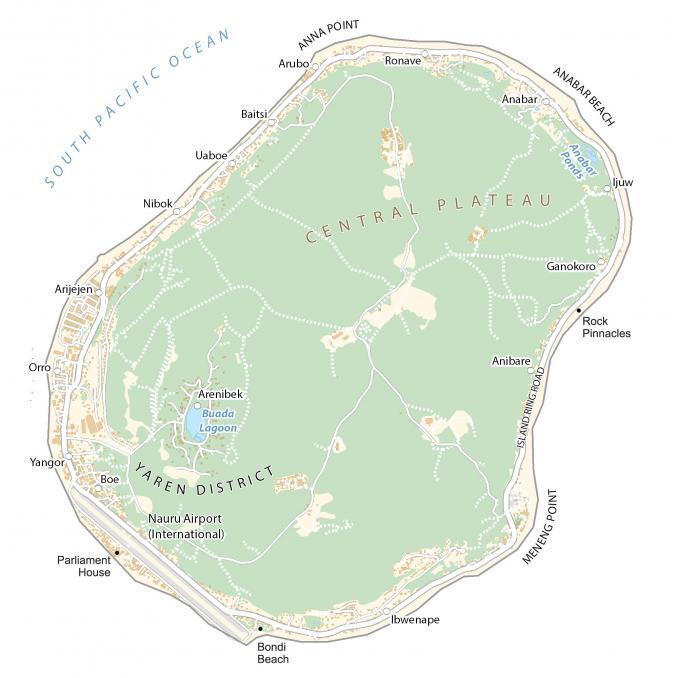 Download
Nauru (formerly Pleasant Island) is a small island country in the Pacific Ocean. This map of Nauru includes villages, roads, and satellite imagery of the smallest island country in the world.
You are free to use our Nauru map for educational and commercial uses. Attribution is required. How to attribute?
About the map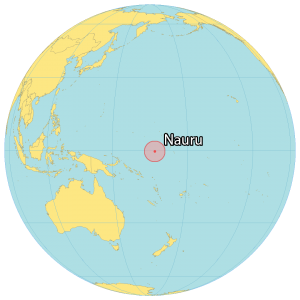 Nauru is a small island country and microstate located in Micronesia. Its coastline measures just 30 kilometers (19 mi) in the South Pacific Ocean. Nauru is near the Marshall Islands to the north, Tuvalu to the southeast, as well as the Solomon Islands and Papua New Guinea to the southwest.
It occupies an area of just 21 square kilometers (8.1 sq mi) which makes it the smallest island country. Additionally, this makes it the smallest country that is not a city-state. The (de facto) capital is Yaren, which is a district in the southwest of the island.

Nauru in Google Maps
IMAGERY
Nauru Satellite Map
Nauru lies only 53 kilometers (33 mi) south of the equator so its climate is tropical. From November to February, it's the monsoon rainy season for the island country. Island Ring Road circles the entire perimeter of the island for about 19.5 kilometers. This means you can't even run a half marathon around the island.
There are no streams or rivers in Nauru. At 0.13 square kilometers (0.05 sq m), its only freshwater lake is the Buadu Lagoon in the southwest of the island. But it also has the Anabar's ponds, which is the deepest pond on the island. Overall, Nauru is generally flat without any major mountain chains or plateaus. At 65 meters (213 ft) in height, Command Ridge is the highest point in Nauru.