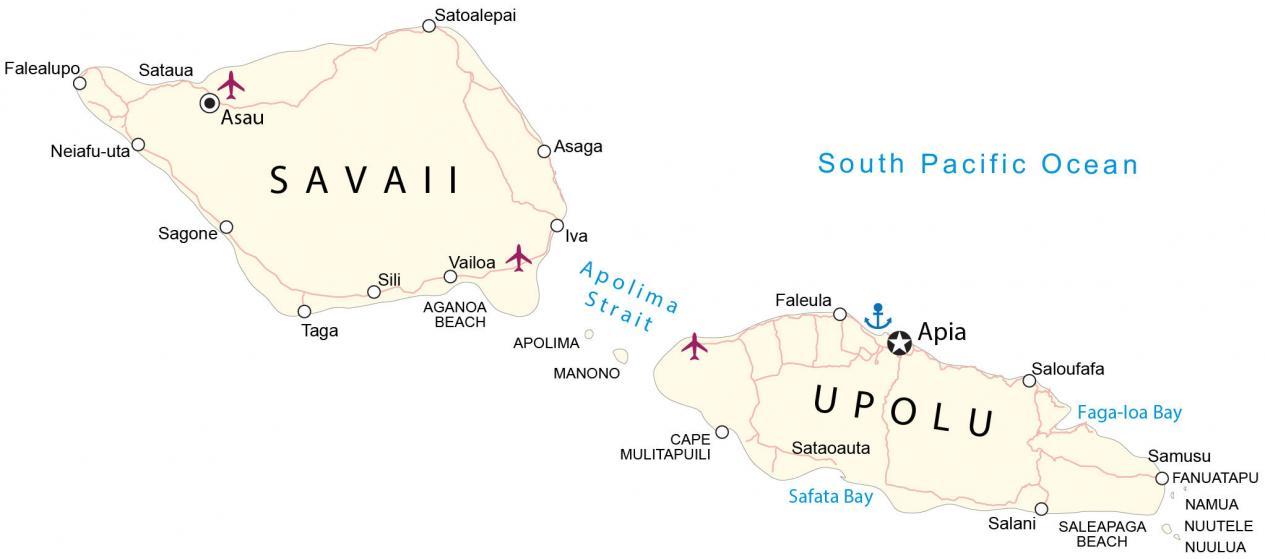 Download
This map of Samoa (formerly Western Samoa) displays towns, villages, roads, and water. Satellite imagery and an elevation map highlight its topography and volcanoes.
You are free to use our Samoa map for educational and commercial uses. Attribution is required. How to attribute?
About the map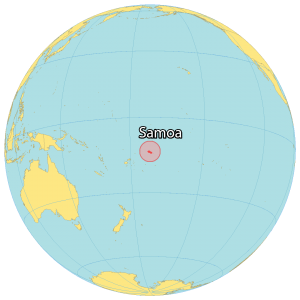 Samoa consists of two islands (Savaii and Upolu) in the South Pacific Ocean. It lies in the southern hemisphere near American Samoa, about halfway between Hawaii and New Zealand.
Savaii is the largest island of Samoa and contains its highest peak, Mount Silisili. Upolu Island is a massive basaltic shield volcano, which contains the capital city and Faleolo International Airport.
Apia is the capital and most populous city, which is situated on the northern shore of the island of Upolu. Other major towns are Asau, Mulifanua, and Faleula.

Samoa in Google Maps
IMAGERY
Samoa Satellite Map
Samoa occupies an area of 2,842 square kilometers (1,097 sq mi), which is similar in size to Hong Kong. While the island of Savaii is more circular in shape, Upolu is elongated in the east-west direction. Other than its two main islands, Apolima and Manono are also inhabited and lie between Apolima Strait.
Otherwise, the islands of Fanuatapu, Namu'a, Nu'utele, Nu'ulua, and Nu'usafee are uninhabited and situated to the east of Upolu. All rivers have a low depth and flow from the central highlands towards the coasts. It lies between 13°S and 14°S so its climate is mostly humid and tropical.
HILLSHADE
Samoa Elevation Map
The islands of Samoa are volcanic in origin and some are still active. For example, Mount Silisili is a volcano located in the central region of Savaii. At 1,858 meters (6,095 ft), this is Samoa's highest peak. But its other peaks include Māfane, Mata'aga, and Maugaloa.
Whereas the island of Upolu does not have as high elevation as Savaii. At 1,113 meters (3652 ft), Mount Fito is Upolu's highest point. Most of the towns and villages of Samoa are along its 403 kilometers (250 mi) of coastline around the two main Islands.