Download
This New Caledonia map contains reference information like settlements, roads, highways, seaports, bays, capes, islands, points, and airports. Satellite imagery shows the main island of Grand Terre and its other islands.
New Caledonia map collection
About the map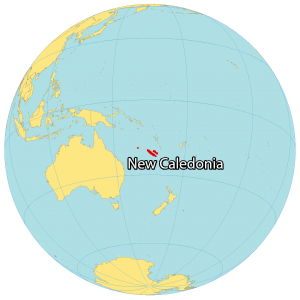 New Caledonia is a French territory in the Pacific Ocean. It consists of its main island, Grand Terre, which holds the capital city of Nouméa. Its other islands are the Loyalty Islands, the Chesterfield Islands, the Belep Archipelago, and the Isle of Pines.
New Caledonia is part of the Melanesia region, south of Vanuatu and east of Australia, making it the closest French Pacific neighbor. Overall, it's divided into 3 provinces.
The North and South Provinces on Grande Terre, as well as the Loyalty Islands Province. Other than the capital city of Nouméa, Le Mont-Dore, Dumbéa, and Païta are major communities in New Caledonia.

New Caledonia in Google Maps
You are free to use our map of New Caledonia for educational and commercial uses. Attribution is required. How to attribute?
SATELLITE IMAGERY
New Caledonia Satellite Map
New Caledonia occupies a total area of 18,576 square kilometers (7,172 sq mi). In comparison, it's almost identical in size to the Fiji Islands. Its coral reef extends over 1,600 kilometers and is the world's second-largest, after the Great Barrier Reef of Australia.
But the New Caledonia Lagoon is considered the world's largest lagoon and UNESCO World Heritage Site, with a surface area of over 40,000 square kilometers. The islands are characterized by their lush vegetation, large savannas, and flowing rivers like its longest river, the Diahot River.
At 1,628 meters (5,341 ft), Mont Panie is northwest of the island of Grande Terre. Overall, the climate is tropical and mostly hot and humid from November to March. Whereas it's drier and cooler from June to August.