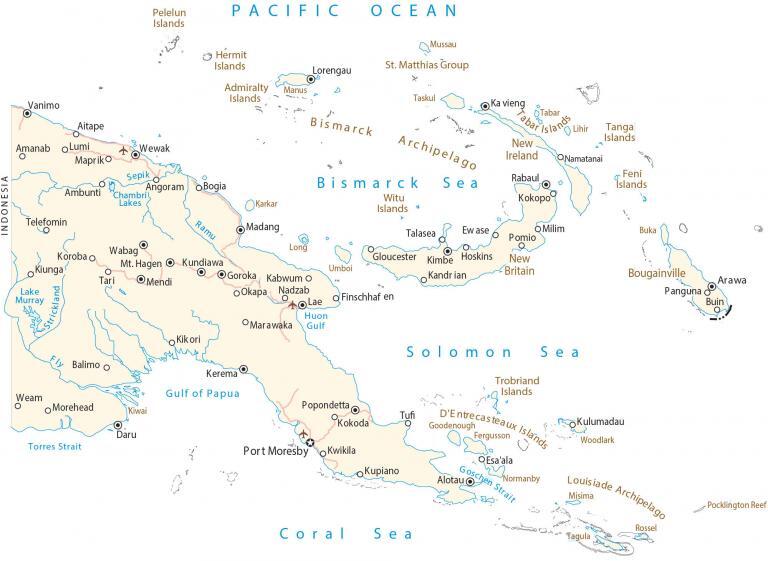 Download
This map of Papua New Guinea shows cities, roads, and islands. Satellite imagery and elevation feature the topography, islands, and landscape of Papua New Guinea.
You are free to use our Papua New Guinea map for educational and commercial uses. Attribution is required. How to attribute?
About the map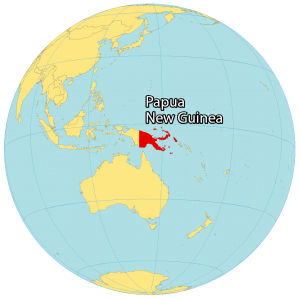 Papua New Guinea is a country in Oceania that consists of the eastern region of New Guinea and its offshore islands in the Pacific Ocean.
Altogether, there are over 600 main islands but New Guinea itself contains 85% of its landmass which is split between Indonesia.
Further to the east, the Bismarck Sea separates New Britain Island from the Bismarck Archipelago. To its south, the Solomon Sea divides it from the Louisiade Archipelago and the D'Entrecasteaux Islands.
The capital and most populous city of Papua New Guinea is Port Moresby located on the mainland within the Gulf of Papua. Other major cities are Lae, Arawa, and Mount Hagen.

Papua New Guinea in Google Maps
IMAGERY
Papua New Guinea Satellite Map
Papua New Guinea occupies an area of 462,840 square kilometers (178,700 sq mi), which makes it the third-largest island country in the world. But the eastern portion of New Guinea, split in two with Indonesia, is the second-largest island in the world.
The country is covered in tropical rainforests with the majority still intact and undisturbed. It's known for having the greatest plant diversity of any other island country in the world. The climate in Papua New Guinea is tropical with its rainy and monsoon season between December and March.
HILLSHADE
Papua New Guinea Elevation Map
Papua New Guinea's terrain is diverse but it's mostly mountainous. For example, the New Guinea Highlands (Central Range) is the spine that extends through the main island. Although the Great Papuan Plateau has many high peaks, its highest peak is Mount Wilhelm at 4,509 meters (14,793 feet), which is in the Bismarck Range.
Its other major mountain chain on the mainland is the Owen Stanley Range to the southeast. Overall, the collision of the Australian and Pacific Tectonic Plates formed New Guinea. Most of its islands are volcanic in origin and have the most active volcanoes in the Southwest Pacific.