Download
This map of Pitcairn Island contains one major settlement, Adamstown. It also includes the significant features of its four major islands – Pitcairn, Henderson, Ducie, and Oeno.
You are free to use our map of Pitcairn Island for educational and commercial uses. Attribution is required. How to attribute?
About the map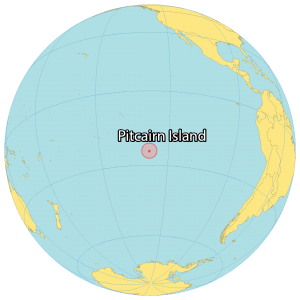 Pitcairn Island is a British Overseas Territory that consists of four separate islands in the South Pacific Ocean – Pitcairn, Henderson, Ducie, and Oeno Islands. But the four islands are separated by hundreds of kilometers in distance and contain a combined 47 square kilometers (18 sq mi) of area.
Although Henderson is the largest island containing 86% of its area and a UNESCO World Heritage Site, it remains completely uninhabited. But the only settlement is on the island of Pitcairn, Adamstown, which is also the capital.
Overall, the population is less than 100 people, and the territory as a whole is considered the least populous national jurisdiction in the world. The islands are volcanic in origin without any airports. Additionally, Pitcairn Island has no permanent water source and is accessible only by boat only through Bounty Bay.

Pitcairn Island in Google Maps
Oceania Maps